In Like Flynn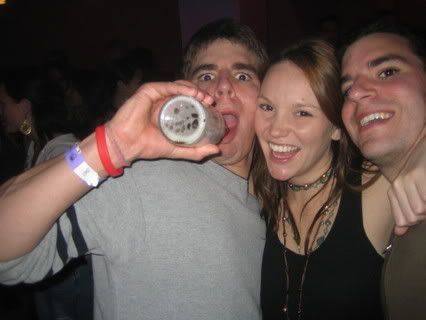 Kelsey, me, and Kyle partying it up two weekends ago
So Kyle's bro, Kelsey, took off this morning... heading back to school on the east coast for the spring quarter. It's been such a treat to have him in the area for these past two months. (He took winter quarter off from school for an internship in SF.)
In honor of Kelsey's last night in town, he and Kyle spent the ENTIRE afternoon / evening drinking beer and playing video games. Boys. The final fantasy fest was interrupted only to go out to one last late night SF dinner. We met up with our friend Matt and his girlfriend Patti at the restaurant at 9. Of course, on this particular night, the restaurant decided to close up shop early – so the kitchen was done before we even got there. Grrr. We ambled around the SOMA/Mission area and finally found a spot still serving. Dinner was yummy and I got into a semi heated debate with Patti about why on earth I would *ever* take my future husband's last name. Ehh, call me old fashioned, I guess.
After dinner we went back to Kyle's place, for guess what… more video games. :) The boys played and I baked molasses cookies from Kyle and Kelsey's grandmother's recipe (sooo 1950's of me, no?). For the record, they turned out phenomenal. I rule.
It was really cool to see Kyle having such a nice evening with his little brother. You know me, I love family.
Speaking of family, Friday night, Kelsey, rather inebriated, pulled me aside and said, "I like you, Courtney!" and then proceeded to give me his full approval and blessing to date his brother. :) He hugged me, welcomed me to the family, and told me that I was "In like Flynn". Way too cute.
And now some more pics:
Kyle playing final fantasy.

Kelsey ALSO playing final fantasy. (Yes there were TWO games going on at once)
:) Hee hee... even Yertle was mesmerized.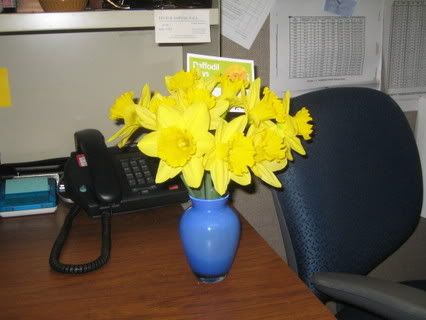 My flowers from Kyle (Posted for
My life is Brilliant
)