Is That a Cucumber, Or Are You Just Happy To See Me
The other night we went out on Haight St. for BBQ and pub trivia. The BBQ was delish - brisket sandwich, seasoned french fries, and half of Lizella's mac and cheese. Yum! When we finished I was stuffed… but not quite satisfied.
If you know me, you that know I need a vegetable with all meals other than breakfast - and french fries are not a vegetable. S
o
we walked to the pub for trivia and, on the way, passed a grocery store.
"I'll be right back!" I yelled as I crossed the street.

When I got back to the bar I was holding one of those giant English cucumbers.

Well, you should have seen the incredulous looks from Kyle and Lizella as I proceeded to unwrap and eat the phallic vegetable right there in the bar.

Ehh, what can do you? Sometimes you just need a veggie, right. Right? Am I alone here?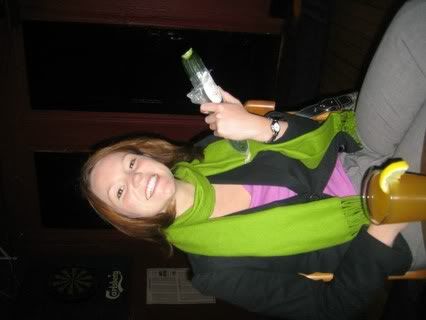 Labels: maybe it's me, yay pictures