Another Heavenly Day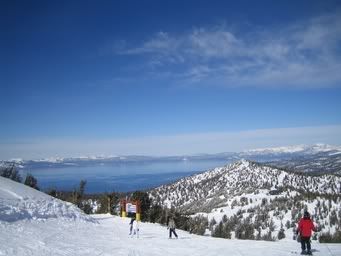 Spent this past weekend at my friend Emily's timeshare in Lake Tahoe. Basically, her place sits ON the mountain at Heavenly... so you can literally walk to the gondola from her front door. It was awesome to say the least!
Highlights of the weekend included:
1. I drove in the snow for the first time in my life!! (Hey, I'm a So Cal girl, remember... we don't do snow.) I'm pretty sure that Kyle, who was sitting shotgun for the occasion, was more terrified over the whole ordeal than I was. He claims to be a nervous passenger, but I think it was my white-knuckled grip on the steering wheel and constant "OMG, we're so gonna die" that may have pushed him over the edge a bit. I'll have to work on that.
2. Kyle is sitting this season out because of his knee surgery... so during the day it was 5 couples and me - the eleventh wheel - out on the slopes. I ended up snowboarding alone A LOT... but actually it worked out well because I think I made *substantial* improvement out there. No major wipe-outs to speak of - including getting off of the lift - and I think I can officially "carve" now! Score.
3. I met Kyle's younger brother, Kelsey, who is in California for an internship. Before meeting him, I was informed that Kelsey was the cute one in family. Umm, well, granted I *might* be a bit biased, but, in my humble opinion, Nu-Uhh! I am totally dating the cuter brother. :) Go me.
4. Kyle and Kelsey learned to play craps at the casinos Saturday night... and I learned that I still really do not understand why people like to gamble.
5. I also learned that it SUCKS to have to leave Tahoe first thing Sunday morning - when there is fresh powder on the ground, I might add - to go back to school to sit in a computer lab all afternoon trying to finish a stupid lab assignment for the world's hardest class. (Yeah, 218B, ugh... is it March yet?)
Anyway... so that was my weekend. Some beers, some snow, some hot-tubbing, and some sitting at Stanford coding in C. Ehh, 3 outta 4 ain't bad.
Labels: fun stuff, playing catch up, school, the boyfriend